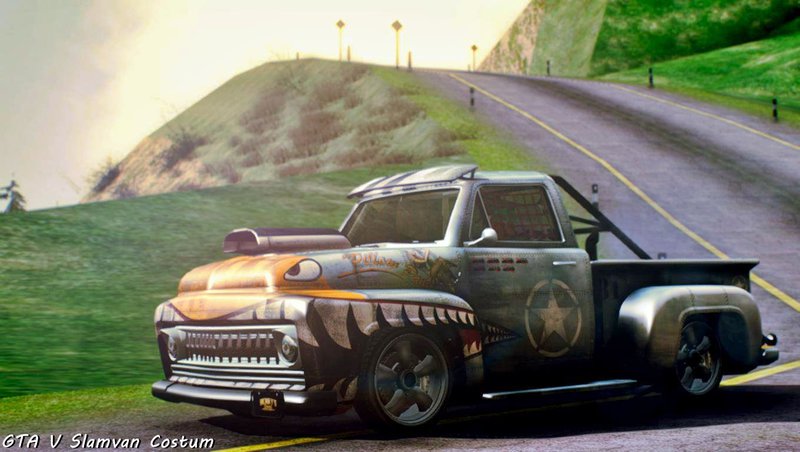 =================================================================
Ripped, Converted & Improved by Muhammad Gibran
3 versions are included :
-Stock Version
-Race Version
-Lowrider version
>Replace Slamvan.
>Tested in CLEO4.3.
>No SA-MP/MTA testing.
>Race and Lowrider Version has 2 extra
(column shifter lever, boobles, interior cage, exterior cage,
custom plate, custom plate frame, hydro, and more)
>Damaged parts: All for this model.
>Support ImVehFt :
-fully working lights
-working steering wheel
-brake hubs
-GTA IV styled dirt on recolorable body
-working brake hubs (caliper)
-working platelight
-working interior light
>Active Dashboard
-working speedometer
-working window wipper (still have bug,
fixed in next update)
-odometer (still have bug, fixed in
next update)
>HQ Interior
>HQ Models
>Flat Shadow. Adapted Collision.
>Open source, files unlocked: only credits required for use it.
>The size, model,and texture is Original from GTA V
>Custom collision and flat shadow.
>Work with Hydraulic
>Supports paintjobs (9 paintjob included).
>chassis_vlo from GTA V
>working transmission => Work with Hydraulic (still have bug,
fixed in next update)
>4 colours support (primary=body, secondary=body, tertiary=interior,
Quaternary=window)
>SA Plate
===============================
Credits :
Rockstar Game = Original Model and texture
Automan = Give me the yft file and Paintjob
TomGT234 = ScreenShot
===============================
Next update:
-fix the transmission bug
-fix the odometer and window wipper bug
-add custom dials as extra
-create the normal version (no IMVEHFT)
===============================
To change the Tertiary and Quaternary colour, you can download this mod :
http://www.gtainside.com/en/sanandreas/mods/81464-colors-paintjobs-selector/
===============================